In California, teens can begin their California driver training with a certified California driving instructor at the age of 15½. We recommend Drivers Ed Direct as your smart choice in fulfilling your behind the wheel training requirements for California. Offering the best instruction, new hybrid cars, and an innovative curriculum, Drivers Ed Direct is quickly setting the standard for Drivers Training throughout California and the rest of the United Sates: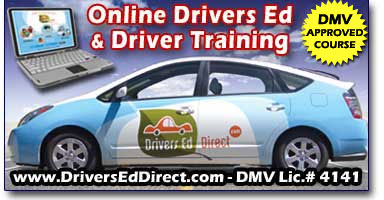 It's no secret that teen drivers have a higher rate of serious and deadly accidents than other drivers. Many of these accidents are caused by common mistakes, or an incomplete knowledge of California DMV traffic laws. With these poignant statistics, it's a wonder parents don't take choosing a CA driving school more seriously. The knowledge gained from a good, qualified, California DMV licensed driving school decreases the chances of being involved in a costly, injurious or possibly deadly collision.


Living in Los Angeles County, Ventura County, or surrounding areas? Then LosAngelesDrivingSchool.com might be the right choice for you. They provide online drivers ed and in car driving lesson instruction for Los Angeles, Santa Clarita, Valencia, the San Fernando Valley, the Conejo Valley, Burbank, Beverly Hills, Santa Monica, and Hollywood!
Do you live in the South Bay region of California? Southbay-Driving-School.com is the newest driving school website dedicated to teen drivers needing a drivers license or permit in South Bay, CA. They offer driving school behind-the-wheel lessons to any high school student living in Torrance, Redondo Beach, Manhattan Beach, Palos Verdes Estates, El Segundo, Hermosa Beach, and Rancho Palos Verdes. They also offer a discounted driving school course. In addition, they have an online drivers education course that is DMV approved, fun, easy, and fulfills your entire drivers ed course requirement.
| | | |
| --- | --- | --- |
| Remember, traffic laws and DMV regulations vary from state to state. Not every state has the same requirements California does. Find another state's requirements for getting a driving license from your DMV - just click on your state below: | | |
| | |
| --- | --- |
| When choosing the right California driving school for you or your loved ones, there are some obvious and not-so-obvious points to consider. | |
• Price should not be a factor when choosing between driving schools
• Verify the driving school is licensed by your CA DMV.
• Customer service should be a priority for Driving Schools.
• Choose a driving school with nothing to hide.
• Find a driving school with several products to offer.
• Driving schools should be able to help get your California learner's permit.
• Review the driving school's website.
• Make sure the driving school's instructors are capable.
• What does the driving school offer in the way of training vehicles?
• Verify basic driving school services are intact.
• Make sure they can accommodate your schedule.
• Is the Driving School involved with a community in California?
| | | |
| --- | --- | --- |
| As you can see, choosing a suitable driving school requires a little more forethought than opening up the yellow pages and randomly dialing a phone number. While many teens may opt to take the quickest and easiest route they can find, a prudent parent knows that this is not a decision that should be rushed. | | |
For more complete information regarding choosing a driving school, read this highly rated article that sets the record straight.
Which state or DMV would you like more information for?