In California, we recommend Drivers Ed Direct as your first choice in fulfilling your licensing or learner's permit requirements for California. Offering the best instruction, new hybrid cars, and an innovative drivers ed curriculum, Drivers Ed Direct is putting the quality back in Drivers Training and Drivers Education: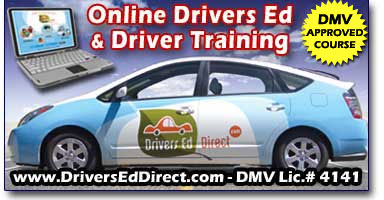 Getting a California drivers license for the first time? Then you'll want to start with getting a learner's permit and familiarize yourself with the CA DMV license application and license testing process.

Getting a California drivers license from your DMV in today's world usually involves taking some form of drivers education, passing an eye exam, passing a traffic laws test at the California DMV, passing a learner's permit test, taking driving lessons behind the wheel of a car, and passing a behind the wheel driving test.
| | | |
| --- | --- | --- |
| Remember, DMV traffic laws and regulations vary from state to state and are not necessarily the same as California regulations. Find out what your state DMV requirements are for getting a driving license - just click on your state below: | | |
| | | |
| --- | --- | --- |
| You need a valid driverís license to drive a motor vehicle (car, truck, motorcycle, etc.) in California. Furthermore, it needs to be current and not expired, suspended by your local CA DMV or state court, cancelled or invalid. In general, a CA driverís license only gives you the right of driving only as long as you are respectful, careful, and abide by the traffic laws; otherwise, it can be suspended or revoked by the California DMV. Also, California driverís licenses are valid only for the operation of the class of the vehicle that you have earned a license for. You must not operate any vehicle for which you are unqualified or that is restricted by the class of your license. Also, if you have a CA learner's permit, you must follow any restrictions that the DMV has in place for drivers operating with a learner's permit. | | |